Psoriasis Testimonials
We have received hundreds of grateful emails from customers who finally have a solution to their psoriasis problems by using Champori's age-old natural psoriasis remedies. Here are the some of them:
| | |
| --- | --- |
| Before | After |
| | |
My name is Elaine. I have had psoriasis for more than 10 years; mostly on my legs. Its condition got much worse approximately 3 months ago after I use new medication Taclonex: psoriasis almost completely covered my legs with terrible redness and itching. After the first couple of days of using Champori spray and crème redness and itchiness started to get better. Now, after 3 weeks of treatment, there is no more itching, the color of patches is light pink, and some spots almost disappeared.
Thank you very much for such a beautiful product!Elaine S. Stamford, CT
| | |
| --- | --- |
| | |
Hello Champori. I was both surprised and pleased with the almost instant effect that your cream and spray had upon my case of Psoriasis which I have suffered with for over twenty years. I changed my diet about six years ago to mostly vegetables and veggie drinks and my psoriasis almost disappeared for a while but as you can see it does flare up from time to time, I started on your cream about two weeks ago and here are some before and after photos.Thank you so much for cream -spray combo it really does work!
Larry M. Don Mills, Canada
| | |
| --- | --- |
| | |
Hi! First of all, I would like to say "Thank you" for coming up with Champori.
I am 45 years of age and had psoriasis more or less for 17 years now. My medications were the usual topical & oral steroids and immune suppressant drugs. I sort of got desperate or you can say, tired of just having the same medications since it seems that these drugs have adopted already to my system and are not working anymore.
My psoriasis started getting so active again this March 2009. I don't remember already the last time it acted up so much this way. I ordered your product in July 2009 and for about a month I just kept on applying it all over my body. I would say that 90% of my lesions disappeared! And at present all my lesions are gone and are under control. Proof of these are shown on the attached photos on the before and after of my psoriasis lesions on my arm. Your Champori really, really, really helped so much. Now I have told about your website with some of my friends whom I know have other friends suffering also from psoriasis and yes, eczema. Again, my deepest Thank you and for sure I will be keeping Champori always readily available with me. God bless…..
Donna K. San Jose, CA
Hello. I just purchased the Cream and Spray for my scalp psoriasis. I have to admit that I was skeptical but desperate. I've only used it for a few days and my scalp is so much better! In fact, I can foresee it being totally cleared up soon. This stuff is better than any prescription medication I have tried (and there have been many!) I don't know what is in this product or why it works so well, but I am eternally grateful and you have a customer for life! Thank you from the bottom of my heart :)
Christine W. New York, NY
My mother has been suffered by Psoriasis for 6 years. She tried all kinds of medicines in China but no one could really solve her problem until I bought champori psoriasis cream for her in May this year. She felt changed better only after 2 weeks of using it. From then on, her condition was improving day by day. The second photo was taken just after one month she used it. I am so glad to find your stuff to help my mother from chronic suffering.
Cheung M. Orange, CA
| | |
| --- | --- |
| | |
Hi there. I just wanted to send an email and let you know about the success i have had with your product. I have had psoriasis for around 2 and half years. I've been to Dermatologists who have prescribed me numerous creams all of which have been unsuccessful. Hating the look of it over my arms and legs I was always wearing long sleeves and pants to cover it up - even in the middle of summer. Recently I was searching on the internet to see what other people had had success with. I came across a few threads where they were talking about Champori product. So, I checked out your website. I live in Australia so was very happy to discover that you ship overseas. I've been using the spray and cream now for 2 weeks and can't believe the change. I can only imagine how much more it will improve over the coming weeks. I will definitely keep buying.
I have attached some before and after photos for you to see. I have got more but they are taking forever to attach. Thanks so much for such a wonderful product.
Tommy M. Beenleigh, Australia
I am 29yrs old and had psoriasis since 18. For years I have had to use steroid shots and creams… Usually sunshine and strict dieting help too, but nothing like this product! … I have been using your spray and cream for a month and a half and the results as you can see are truly amazing!!
Naomi M. Dublin, TX
HI! Wow, I knew I was going to e-mail you when I seen improvement but I didn't think it would be this soon. I have only used it for 3 days and what a difference! I have battled with 2 huge patches of Psoriasis on my left leg for 3 years. I have very light and very sensitive skin so the creams from my doctor did more damage than helping. Thank you so much for sharing your products. What a Blessing!!! Thanks!
Tony B. Morganton, NC
Hello, I am very happy to have found Champori for my psoriasis. It started to work immediately and I felt great about it being all natural. I have tried many steroid creams and was always worried about side effects. I am happy to say that I only use Champori now to treat my psoriasis and that I can show my knees and elbows more often than I ever have. Thank you for easing my mind with regards to treating my skin!
Angela T. Twin Falls, ID
I just recently started using your product for psoriasis and can say that the itching and redness have completely gone away. I'm currently serving in Iraq with the US Army. I know your product says to say refrigerate, but what will happen to the life of the product if I can't always keep it cold? My room has A/C and stays at about 68-72 degrees F all day. Again, thanks for an awesome product, my dad and I both have psoriasis. He turned me to this site as both him and I have had no reactions to any other form of treatment.
Frank A. Dallas, TX
Hello there, I am ordering another pot of your cream because the first one seems to have cleared up a four year old bout of psoriasis ... unbelievable but true. Thanks very much is all I can say.
Peter C. London, UK
I am very pleased to give you my feedback.. I have had bits of proriasis for most of my life. Initially I used prescription creams which I feel ended up damaging my skin and making the condition worse. I have therefore been desperate fo find a Natural product that would work for me, but the others I have tried were very poor. I search the "web" as I always do and came across your website. At that time you had a free 1/4 oz sample jar on offer so I gave it a go. I am so pleased that I did! I had patches of psoriasis on my elbows, wrists, knees, face, ears, hairline, back and upper thighs. As I only had a small sample to try, I decided to restrict it to the areas on my body that show. My elbows, wrists, face and knees, and to use it only twice a day. Wow, within few days I was amazed with dramatic improvement. Now my skin is the clearest it's been for over three years. That's why I bought a bigger jar. I can now concentrate on applying the cream to the rest of my patches. I am really over the moon with the results and will never want to be without the cream.
Carol H. London, UK
The Champori salve literally gave me my life back. I suffer from
psoriatic arthritis
- which for long periods of time renders me unable to walk. The salve not only
did wonders for my skin
, but since the inflammation associated with the psoriasis has decreased -
my joints feel a lot better
too and I'm
walking most of the time
now
. THANK YOU!!!
I'm very pleased with the results I got from the Psoriasis medicine I received from you; I hope these pics of my hands show just how great Champori is. They were very bad looking, now when I go shopping I don't have to try and hide my hands, My legs are not completely healed, but they are getting there, the bottom of my feet were horrible, I could hardly walk on them, but since using your spray and cream they have almost cleared up and I can walk good on them pain free. … My skin specialist wanted me to take shots of Enbrel at a price of 3,300 a month to treat my condition, but we decided this was a safer way to go - the shot has too many side effects that could happen. I have what is called Pustular Psoriasis, I was so blessed when I found your website. Thank you so very much, I tell everyone I know and see about what great products you have. Thank you thank you from the bottom of my heart.
Joann U. Coral Springs, FL
Thank you for the natural remedy you offer.
Few years ago I had come to the conclusion that a couple of patches on my scalp were sites of psoriasis. Very soon I discovered that if one was to research psoriasis remedies online, one might become quickly discouraged. Nothing I tried did anything to alter or impact what had been a very long and unexplained annoyance and concern. … Your remedy made a difference and was well worth the price! I used the ointment while sleeping or at home and applied the spray after showering & before going out or before work. Change was evident in 7 days, improvement in another 3. Many thanks!
Dan S. Fairfax, VA
I have been suffering with hand Psoriasis for over 15 years. I have tried everything from medicated creams to sprays, to Epsom salt, PUVA and Biologics with no success. I gave your product a try about 2 month ago. I use the cream and absolutely love it! I have never seen a product work so well and so quickly. I finally see a light at the end of the tunnel, Thanks so much, Champori!
Roseanne A. New York, NY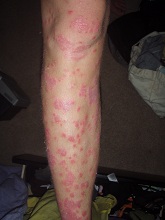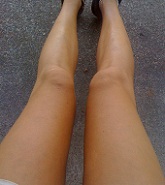 My entire body was covered, I was VERY depressed and VERY itchy. Champori gave me back my self esteem and my skin. I get teary and it's hard to talk about. I'm incredibly thankful. I could go on for pages and pages but I would cry a lot explaining how much it hurt socially and physically. However now I am crying tears of joy because it's gone, it's all over thanks to your fabulous product. I used it for two months the spray and the cream but I noticed an improvement in the way my skin felt after two or three days.
I can't thank you enough! Jessica B. Boston, MA
I have had psoriasis on my feet and nails for about 4 years. I am a health care provider and at times the pain and breaks in the skin on my feet has been incapacitating. I was also about to lose one of my nails. The cream and spray have been a godsend for me. After only about 2 months of treatment my feet are 85% better and my nail is re-growing normally. I have tried dozens of prescription products and I have spent thousands of dollars on doctors and prescriptions. Your product works much better than any of them. The prescriptions more or less kept the psoriasis from advancing (some of the time). But the Champori products actually made it clear up with healthy skin emerging. Thank you so much, your herbal spray and cream are the first things that have actually helped me.
Jenny R. Fort Worth, TX
| | |
| --- | --- |
| | |
Psoriasis first showed up in my life in my early teen years. I have had it on and off for the last 17 years of my life and I have tried many different products. Some worked at first but the psoriasis would always prevail. I was first intrigued by your products because I didn't want to have to use strong steroids on my skin for the rest of my life and I have been looking for a natural alternative. I have tried many natural treatments but Champori sprays and creams have been the best product that I have used. As you can see in the photos the redness has decreased drastically on my head and it is totally gone from my cheeks. The best part about using your cream is that the itching and flaking is 95% gone and there is no painful stinging. There are still some dark spots on my head and legs but they seem to be decreasing and I will continue to use this product. I have recommended this product to my brother as he has psoriasis as well and I am sure he will have similar results. Thank you very much for creating such a wonderful product!
Jerry P. San Diego, CA
I literally just had a flare up and I used the spray for 3 days (I put it in one of those hair coloring applicator bottles I bought on Ebay so it goes right on the scalp) and now it's mostly gone!! This stuff is a Godsend!! And best of all, I no longer have to use Clobetasol.
Alex G. Sacramento, CA (scalp psoriasis)
Hi, I would just like to say how much your cream has helped my facial dermatitis. Even though it was minor, it was quite embarrassing when I had a flare up, so I was quite skeptical when first purchasing but I can honestly say it has totally cleared it up and made my facial skin much healthier. Pharmaceutical companies should be scared of you! Thank you so much.
Martha N. Riverside, CA
Hi there. My husband's psoriasis came on about 10 months ago. First his scalp and then materialized on his legs. He has been miserable all summer. His doctor misdiagnosed a few times and then when they realized it was mild psoriasis by their standards, they prescribed numerous treatments. Nothing worked. I did some research on my own and came across your site. I looked at the testimonials and the images and they matched my husband's condition. I bought your product three weeks ago, and Jim's legs look like they have just a mild rash. It is disappearing day by day and we are both very very happy. We would like to provide a testimonial and pictures if we could because your product for us is working like gang busters. Very happily,
Pat C. Cleveland, OH
I began to get psoriasis on my thumb and using a steroid cream given to me by my doctor, I got no relief and felt like my skin was getting even worse! Soon I noticed more psoriasis on my other hand. Even my daughter-in-law who is a Registered Nurse could not recommend anything else except a steroid cream.
I was getting desperate for relief as my hands became itchy and painful when they began to split open. I came across your website and was impressed by the testimonials and ordered your cream. Here are the amazing results after using your cream just 3 days!
I wish there was some way we could let everyone else in the world known about the amazing properties of this natural product. Thank you so much for your cream, I'm letting my daughter-in-law know!
Connie G. Little Rock, AR
| | |
| --- | --- |
| Before | After |
| | |
Hello, I have had psoriasis since childhood. It seemed to have become less and more manageable as I got older. However, this past terribly cold and dry winter (2009) my psoriasis had taken a turn for the worse and became unmanageable. My psoriasis flared worse than ever. The patches were thick, itchy and sometimes would crack and bleed. I had tried many remedies from variety of recommended baths to lotions, oils and creams. All resulted with very little to no success and no itching relief. I did not want to continue with the prescribed steroid cream for the side effects it is known to have. My wife found Champori online and we have had great success with the cream/spray combo. The itching was relieved almost immediately and as you can see from the before and after pictures the patches are considerably less and almost gone in some areas. I have had much relief from the Champori product and will use nothing else. Thank you!
David S. Oshkosh, WI
| | |
| --- | --- |
| | |
Hi. About six weeks ago I bought the Champori psoriasis cream. I had psoriasis on my leg, arm,torso and the back of my neck. I have included pictures of my leg and arm. As you can see the color is lighter and I can tell you that the scales are almost gone and the skin is soft again. I've been battling this for about 13 years and have tried many products both prescriptions and all-natural including dietary changes and nothing has helped as much as this product. Prescriptions helped some but they have side effects and stop working. The other all-natural stuff has done nothing. Dietary changes are good but hard to stick with permanently. I looked up the ingredients for this product online and was encouraged to see some studies that had been done with skin problems including psoriasis. I must admit that I was beyond skeptical it would work because there are a lot of products that claim to help and frankly don't. But I'm glad I did. I can now get my hair cut short without embarrassment because the back of my neck is almost cleared up. I believe that I'm still in some state of shock over how well things are going. I'm very thankful that someone has found something that works for me and I'll tell anyone I meet about your product that needs it. Thank you so much for putting this product out
Heather M. Lincoln, IL
Just wanted to thank you for this wonderful product; my father has suffered from Seborrheic Dermatitis on scalp for more than 40 years, and I am always sending him "remedies" I run across. Nothing has ever done much for him until the Champori; he would always humor me and try what I found, but had pretty much given up; I sent him the Champori around Father's Day and he called the other day to tell me the dermatitis is gone!! I just sent some of your product to my uncle who suffers as well; am confident he will be just as ecstatic! Thank you so much!!
Lisa G. Edmonton, AB, Canada
My father has been suffering from Psoriasis for over 30 years now. The condition gets really bad in the winters, when he can barely walk due to the bleeding / pain in the affected areas on his leg.
There is not a single product / home remedy we have not tried.
We live in India where homeopathy was born, but even after 3 years of homeopathic treatment it did not get better. I constantly look on the internet to see if there is any new product that he can try and I chanced upon your website. I ordered for him a small combo 2 weeks back and even in the peak of winter now, he is without any irritation and can sleep peacefully at nights... My father is thrilled beyond words! Thank you Champori!
Raji K. Bangalore, India
I have included a very clean diet with the use of Champori...I have seen significant results in an improvement in my psoriasis. For me the results were more subtle in the beginning and these pictures are over a 6 week span.
Marilyn H. Superior, MN
Hello, my name is Sue, and I purchased a large kit of your Psoriasis Spray and Cream. I cannot tell you how happy I have been with the results. It is a Godsend when all the harmful medicines I have taken didn't work at all. … I use Champori spray and cream twice per/day. Once in the morning and once at night. All my scales are smoothed over. The skin on my feet is starting to feel like normal, pliable skin. Some slight redness left, but considering the length of time I have lost so much skin, some of this may be permanent damage. I am no longer ashamed to wear sandals without people thinking I have a disease. Thank you so much for such a wonderful
product. I am attaching before and after photos. I plan on ordering more of your product for my other family members. They will not believe it, for they too have suffered tremendously. I love you for this.
Sue G. Brewton, AL
I've had Seborrheic Dermatitis since 1999 and it's made my life hell. I've tried every supplement, acv, anything I could find that I thought might help. Over the years many did nothing more than waste my time and money. While I was on vacation I came across a forum online that was discussing rosacea and seb derm and noted a topical called Champori. Of course I was skeptical but figured for $30 I would to give it a try. The package arrived the day I returned home from vacation and I started immediately. I honestly can say to you I was amazed at the results. Within a week almost half of my seb derm was gone or on its way and by the second and third weeks 90% was a distant memory. I started trying it on my head after that and was able to rid myself of the seb derm that had been plaguing my head for years.
I would never endorse a product for this as I've never found anything that actually works, but I have to say that Champori proved all the doctors and dermatologists wrong. I couldn't wait to share it with everyone so I'm revisiting all the boards I used in the past to let everyone know. It even worked on my wife's Rosacea! We are both very happy and grateful to have found it.
Donald G. Austin, TX
I love your product. It's the only one that works. Attached are before and after pics of psoriasis on the top of my forehead. I used the spray and cream twice a day for a week - after just a few days I noticed the spots started to fade and the rough patches started to clear up. It hasn't cured my disease but it sure makes it manageable.
James B. Lansing, MI
After two weeks of use I am very pleased with your product. I have battled psoriasis for 15 years and being skeptical at first after so many disappointments with almost every topical prescription known to man, I decided to give Champori a try. Right off the bat I started to see improvements with Champori. Less scaling was noticeable within a few days and within a week I noticed patches beginning to flatten out. I have now been using the anti-psoriasis cream and spray for two weeks and my psoriasis is starting to heal from the inside out. All my patches are fading and are noticeably less red in color. I am so excited to get off the harmful effects of steroids and treat my psoriasis with a natural product. You have definitely gained a customer for life with your product.
Darrell H. Vinton, VA
Sadly, I didn't take any 'before' photos as I thought this cream, like all other creams I have tried just wouldn't work. I was wrong! Psoriasis has plagued my life for the last five years. Steroid creams were fierce and made my skin worse. I stumbled across Champori on a psoriasis blog and can honestly say your cream has changed my life. My arms are now free from psoriasis completely and I see more disappearing from my legs each day. I know I will be clear from psoriasis within the next couple of months. I am so grateful. What's more, you provide a first class service to the UK. Thank you.
Elisa M. Faversham, UK

My psoriasis started 3 years ago on the back of my hands, then spread to lower and upper arms and shoulders. I used Cortaid but it was pretty useless. When I bought your product I first used it on my lower arms and back of hands, and these areas are clear now. I am now dealing with the upper arm/shoulder situation. I apply the spray first, and when it dries I put the cream on... I wish I found your products earlier.
Jacob B. Amarillo, TX

...I have been using your product for about a month now, and I am extremely happy and satisfied with the results. I have been suffering from Psoriasis for over 9 years, and this product has given me hope and a chance to relive my life again. My doctor has prescribed me ointments and pills for over 9 years now, but none of it has helped as much as your Anti-Psoriasis Cream. I couldn't thank you enough, and I wish I could've found out about your product sooner. I will tell everyone I know who has Psoriasis or Eczema to try your product. After two days of using your product, I have seen incredible improvement and knew that this cream would work. As seen from the pictures, before I had red and bumpy spots all over my legs, but as I used your product, my spots lightened and smoothed out. Thank you, thank you Champori, for giving me what I needed most. I wake up everyday feeling better about myself. I don't ever want to be without the cream!
Beverly L. Sacramento, CA
Hi Ollie! Your product is amazing!
I've had some great results in just 2 days and with just 4 applications (twice a day).
I've had a couple of psoriasis spots for over 10 years (mostly on my scalp and elbow), however early this year, it just flared up covering my entire scalp, and most of my lower legs.
Nothing I tried worked. Steroidal creams only gave mild relief. I'm amazed with the results I've had with using Champori for just 2 days. I'm sending you the pics of my leg. Well, is not gone yet but I can see much improvement. Surprisingly the results I've had for my scalp are even better. I can now feel my scalp instead of something that felt like crust. There were no flakes on my pillow the last 2 nights. I hope I can get rid of this scourge, or at least keep it under control. Thanks again.
Uma K. Malaysia
Hello, I have had a very severe case of Psoriasis on my scalp. I have had it for about a year and a half, and my scalp had severe scales that appeared like dandruff. This also caused my scalp to itch all the time. Overall, this created a very unpleasant and embarrassing situation, with dandruff-like scales falling on my shirt all the time, and with the severe itching sensation on my scalp.
I contacted my skin specialist, and he asked me use Clobetasol and Selsun shampoo at frequent intervals. These helped a little, but made no significant impact. I tried many other shampoos and creams, but those were of no avail. I recently performed my own web search, and found out about this product called Champori. Given that everything that I had tried so far had failed, and I was desperate to do something about my Psoriasis, I decided to try out this product.
I have been using the Champori products (both the cream as well as the spray) for the last one month now. I initially applied the cream on my scalp, and then used the Champori spray after taking a shower to make sure that the liquid reached the affected areas of the scalp. I have now been using the spray liberally once or twice a day on my scalp.
To my amazement, this product has done wonders to the affected areas of my scalp. The itching sensation is completely gone, and there are almost no scales or dandruff on my scalp anymore.
A truly great product! I would recommend anyone who is suffering from Psoriasis to try it out. (I could not take pictures of my scalp given that I have thick hair)
Alok H. Redmond, WA
I must commend you on the excellent service I have received down under in Australia. Psoriasis and psoriatic arthritis are on the warpath and have been taking over my entire body. It has been very distressing. From time of order to receipt was 10 days. I really appreciated being kept advised of the status of the order and that it had been dispatched. … Being as desperate as I am and having hit the end of the line in treatments, your product has offered me a ray of hope. I have been using it for 1 week and already the lesions which cover a massive proportion of my body [almost all of my legs, my hands and feet, some of my arms and a large proportion of my torso] are noticeably lighter and less inflamed looking. Thank you for your efficiency and for the best psoriasis product I have tried so far.....something that works, finally!
Anne B. Sydney, Australia
I have had plaque psoriasis of the scalp for over 5 years. As a young, attractive, professional female, my confidence was slipping away year after year as my psoriasis worsened. I went to doctors and they all prescribed the same steroid creams and liquids. But, if I ever missed a dose my psoriasis would spread and get worse. I was very depressed and self -conscious every where I went. I am happy to say the day after I stared using Champori spray and cream I could feel and see a difference in my scalp. By day 3 I couldn't believe how much it helped me!! I've gotten back my self confidence and I have even gone to a hair dresser for the first time in years!
(my hair is very thick so I was unable to get any good pictures, sorry)
Thank you so much Champori for giving me my life back. God bless you!!
Kelly N. Pasadena, CA
Dear Champori Team,
First of all, I would like to thank you for this wonderful cream. It works wonders, thank you again and again.
My name is Ariana. I have had psoriasis on and off since my teenage years. Most of the time on my scalp in springs and falls but last couple of years it spread to my back and breast area.
Last year when i moved from Europe to Asia things got out of control, patches over my scalp and body grew in sizes and started to itch and bleed. Later psoriasis even spread even to my legs and arms.
I have tried different creams, shampoos and diets, and even meditation to calm myself down. Nothing seemed to help. i used to spend all my free time (days and nights) in the internet searching for information and hoping there would be some new method of treatment. I came across Champori in one of comments to the article about psoriasis in the newspaper website. I searched for it, and found only positive responses.
I must admit, I was still very skeptical even when I was ordering that. My husband and I decided to go for the biggest spray and cream combo. We expected to get one of those ''big'' cream jars with double bottom that has very little of the cream itself (as with most internet-marketed creams) But Champori proved all my expectations wrong: no double bottoms, just opposite, the cream jar and the spray bottle had very thin walls and the cream was enough for whole 4 months even after applying all over my scalp and body.
After I started using the cream, I noticed the difference in just three days. After a week the redness and itchiness were gone. In just two month the big patch just below my breast that was growing and spreading disappeared with no trace. I regret that i didn't take the picture of it before using the cream when the patch was all flaky, red and ugly but took it after two days of applying the cream. Still, no white flakes and redness just within two days, isn't it amazing :D!!! Smaller dots changed in color and dried out in just a week. I couldn't use the cream on my scalp regularly because of my work, so I still have psoriasis patches left over my scalp but most on the body are gone now. I am planning to start the treatment during my vacation. I just can't wait for a day when i can brush my head and see no white flakes falling on my shoulder and at last have healthy scalp and shiny hair. I am so much positive since I found out about your cream. Just six months ago I was so depressed, hopeless, and so ashamed of myself that I even stopped going out with my friends, couldn't wear shorts, skirts, and t-shirts even when it was scorching hot outside, couldn't go to hairdressers', massage saloons, gyms and swimming pools...
So thank you Champori, you brought the best part of my life back. Yesterday when I noticed a small dot on my left breast, I also noticed that my whole attitude changed. I didn't freak out and panic as I used to do before, I calmly went to my bedroom and applied my cream and went on with my normal day. With lots of gratitude :D and love,
Ariana A. Tokyo, Japan
I am 66 years old and first contracted psoriasis about a year ago. Legs and arms were the worst but also had it in my scalp and on my back. Tried a bunch of stuff, prescription. over the counter and mail order. Most were pretty useless.
Best results prior to your product was from a steroid spray called Clobex but side effects, including thinning of skin and neuropathy, were a big problem. After using your cream ointment and spray for a week I found that the flaking and inflammation were vastly diminishing. … Progress is slow but condition is greatly improved. I hope to see continued improvement and will advise you of progress as time and treatment go on…
Ted L. North Bennington, VT
I just wanted to write to you to tell you how impressed I am with your product. My cousin has suffered with psoriasis for years, and I ordered champori cream and spray for him after reading many of the testimonials on your site. Honestly, I didn't have high hopes that it would work, but his entire stomach, legs, and arms are covered with red, flaky, itchy skin, and I just hoped that SOMETHING would work. He just called me to ask me to order him some more - your product has almost cleared his entire stomach and has entirely cleared his arms. He sounded SO happy - and he's only been using your products for about 6 weeks. Your products have made a huge difference in his life... thank you, thank you.
Jennifer P. Tustin, CA
Thank you for your product. I have seborrheic dermatitis inside my ears, it covers all the tissue. Itchy, flaky, painful and very unsightly. Meds. I rec'd from doctor, mostly steroids, did nothing but cause infection. … I looked at consumer rating websites and found champori at the top and bought the smaller set. … The icky stuff is totally gone. It began to clear in just a few days. I now use it once a day and my ears are completely well. I am a medical professional and would not normally go for herbal products, but this is spectacular. I appreciate that the ingredients are listed. Again: thank you so much!
Lynne A. Salt Lake City, UT

I have been dealing with Seborrheic Dermatitis for almost 6 years now. I have gone to dermatologists, changed my diet, and tried several over the counter and prescribed products and … nothing worked. Then I found Champori anti-eczema Cream on the Internet and decided to give it a try… I have been using it on my scalp for 5 days and yesterday as I was shampooing my head in the shower, I discovered that the patches weren't there: the skin was smooth and soft!! It felt like I forgot when my scalp felt so normal. I only regret that I didn't take the pictures of my skin before I started the treatment. … Thank you very much for your wonderful cream!!
Jennifer L. Seattle, WA
| | |
| --- | --- |
| | |
I ordered the psoriasis spray and cream on June 25th. I found your website from some positive reviews on the web. I was very skeptical because I have tried a lot of things and none of them really worked. I have had psoriasis behind my ears near the hair line for about 10 years. To my surprise your products actually did work fantastically! My psoriasis has cleared up almost completely. This is the best it has ever been. It works 10 times better than the prescription that my doctor gave me for Dovonex. This is a great product that actually works. I have already told someone about it and will continue to tell any strangers I see with psoriasis. The reason for this is because I wish someone would have told me before I knew about it. Thank you. Great product!
Darryl S. Medicine Hat, Alberta, Canada